Courtney

Information

Full Name

Courtney Scott

Nickname(s)

Cece

Actor

Penelope Mitchell

Gender

Female

Age

19

Appearance

Hair

Dirty blonde

Eye Color

Green

Outfit

Purple Jacket, Long-sleeved White Shirt, Pink T-Shirt, Jeans

Complexion

Tanned

About

Occupation

Student

Family

Lindsay - Girlfriend (determinant)

Death

Chapter 9; Chapter 10;

Cause of Death

Decapitation; Burned in explosion; Mutilated;
Courtney, also known as Cece, is a character in an Alternate Until Dawn Universe.
Appearence
Courtney is a very attractive young woman with dirty blond hair, green eyes, and tanned skin. She is tall and has a slim figure.
Personality
History
One Year Ago
Courtney was a willing participant in the prank, mainly because she didn't respect Hannah enough to refuse to prank her. When Hannah is presumed dead, Courtney doesn't seem to care.
Chapter 1
--
Chapter 2
--
Chapter 3
--
Chapter 4
--
Chapter 5
--
Chapter 6
--
Chapter 7
--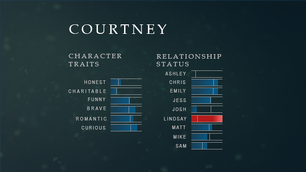 Chapter 8
--
Chapter 9
--
Chapter 10
--
Gallery