Mark

Information

Full Name

Mark Gilberg

Nickname(s)

Marksamillion

Gender

Male

Age

6

Appearance

Hair

Black

Eye Color

Brown

Outfit

Red Flannel, White t-shirt, Ripped jeans

Complexion

Tanned

Accessories

Ear muffs

About

Debut

Until Dawn Fanon

Occupation

Grade Schooler

Family

Omgitsfirefoxx - Wife

Cody nara - BFF

Queen Bela - His Side Hoe

Wubby - Gave Life to Him

Death

Chapter 6

Cause of Death

Dies from getting too close

Status

Determinant
What happened if you read and watched all Sherlock Holmes franchise you got these man.He thanks to Sherlock gain Deduction he can say where you bean and what you do,That actually help him thean jess try to prank him but he analyse her and get her pranked by her own prank.
Events of Until Dawn [Fanon]
Chris,Ashly,Matt and Josh are his best friend.
About Sam they just friend but he liitle cant understant why she didnt ripp of prank letter from preventing these horrible event to happened.
About Mike,Jess and Emily these trio he realy hates them that if he get a chance to punch those three he will do these three times at the same time and dont even regret it.
He helps Ash and Chris become together but he dont tell them that he helping both of them .
Josh and Mark are like shelock and moryairty but in good way everytime that they meet Josh are trying to make sure that Mark cant analyse him and tell what he done they score 6:4 for Mark but Mark tell that Josh are doing pretty good hiding about himself and his thing he doing.
Matt and Mark both realy like sport and even tell Matt what strategi he need to do on footbal when matt team fighting vs other team on football.
Interview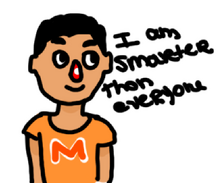 Interview:If all of them survive and Mark find all clues about Hannah and Beth he tell that police that they dumb and blight and he says that 18 old teenager smarter then the whole police apartment and tell everything that he discover on these mountain.
But if he the solo survivor and dont found all cluse he will cry and and says that ashamed of himself for doing thing better.